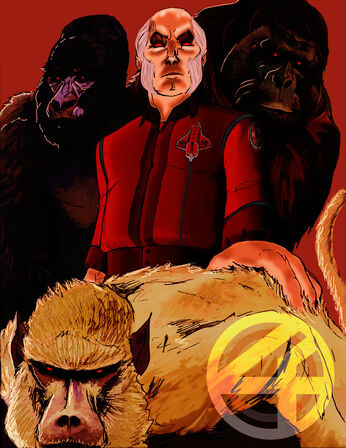 Ivan Kragoff was a Russian scientist who worked for Advanced Idea Mechanics. He became fascinated by the Fantastic Four and began to study their history. Kragoff believed he could recreate the accident that gave the Fantastic Four their super-powers, and he convinced his superior, George Tarleton, to persuade NASA to build a spaceship that was specifically designed to expose its crew to cosmic rays.
Blasting into space one year to the same day Fantastic Four had embarked their journey, Kragoff and his crew headed directly into a cosmic storm. Unfortunately for Kragoff, instead of granting him super-powers, the cosmic rays that bombarded his station killed himself and a crew of others, the only survivors being three apes brought on board for experimental purposes. However, Kragoff's mind survived as an intangible and lifeless entity only present to those who shared his connection to cosmic rays. He went mad on the moon from the isolation while his apes tried to salvage what they could from this botched mission and perhaps forge a new spacecraft to get back to Earth in one piece, only for Kragoff to display a new found ability he discovered in his madness: the ability to become a living phantom with intangibility capabilities. His connection to the apes affected was strong enough to "drive" them all at once that as a legitimate ghost, it would be almost impossible to stop him from eventually confronting the Fantastic Four and poltergeisting his way around the families lives back on Earth as the newly christened superterrorist, the Red Ghost.
(Inspired by MatthewRoyale's bio for the character on Deviantart)
Biography
Powers and Abilities
After being exposed to the cosmic rays, Kragoff gained the ability to become a living phantom. He can become intangible at will and is able to make part of his body solid while the rest remains intangible. Although he cannot turn invisible, he can make his body transparent. He has acquired the ability to assume a mist-like form so that he looks like a real ghost. He can also turn matter he touches or has touched recently intangible.